🚚  Due to COVID-19 situation, order's shipping & delivery may be delayed by at least 10-14 additional business days. Thank you for your patience during this time.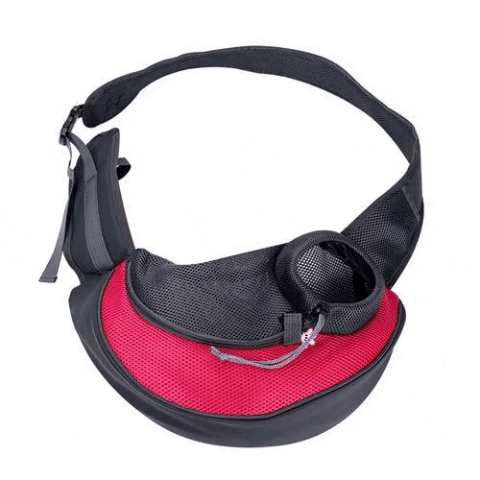 Why this travel sling bag?
😻 Breathes Well & Comfort: Made of breathable mesh material, makes comfortable and temperature is just right.
😻 Extra Safe: Inside buckle connects collar preventing breaking. Contraction rope adjusts neck conveniently.
😻 Hands-free: Hands-free sling is perfect for your daily use.
😻 Easy to enter & exit: Smooth zipper for getting in and out easily.
😻 Snack Bag Convenient: Easy access for your phone, keys, etc…


😺 Product Details 
Color: Blue, Green, Pink, Red
——————————————————————————————
Material: Nylon
——————————————————————————————
Cat Size: Small - Max Weight approx. 4lbs (1.8kg) | Large - Max Weight approx. 10lbs (4.5kg)
——————————————————————————————
Dimension: 35 x 10 x 20cm (small) | 40 x 15 x 25cm (large)
——————————————————————————————


😺 Shipping & Deliveries 
Shipping Charges
We offer free shipping worldwide on all products. 
International Shipping
All orders will be dispatched from our warehouse after receipt of the order. It usually takes 3-6 business days. You will receive your order within 15-25 days from the date it is shipped. 
After your payment is authorised and verified, it may take a few days to process your order. Once your order has been shipped, you will receive an e-mail from our friendly team with relevant tracking details. If you have any questions with your order, please contact us at sales@meowpick.com or Contact Us page.

How to track my order?
You can track your order with tracking details at https://www.17track.net/en.